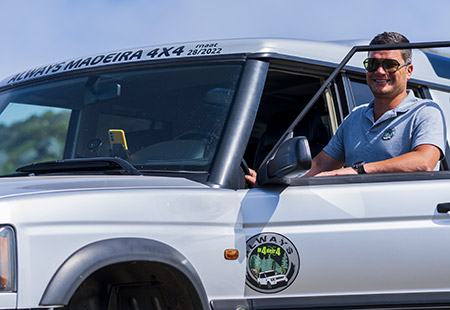 A Brief History
We started this project at the beginning of 2022, where the love for our beautiful island, Madeira, is always present and where our main focus is providing only the best for our clients.
Our experience goes back in time to a company, that in his pioneer time had as owner Sr. José Luís Marrucho de Jesus, he gave me formation and the opportunity to start doing safari tours, 20 years ago. He will always be such a lovely and special person, and for that, the best tribute we could do, was a fully profound recovery of his favourite car UMM Cournil, a car that was special to him, using it daily to make the tours that now with a lot of love and effort, soon will be back on the roads again, reminding old times and memories, and loaded and ready to make new ones.
Going back in time, what started as a sporadic service is now a pure passion, at that time 8 years went by and then was working full time, one of the most fulfilling and beautiful jobs in the world.
For us to see the joy and the shine in the eyes of our clients is something really unique. Being capable of making them never forget Madeira in their hearts, is something that doesn't for sure have a price.
We will continue learning each day in a way to give our clients a service of excellence.
Having always a big care for our cars, in a way to always provide the comfort and safety that our clients seek and deserve, our greatest purpose is giving to know the best Madeira Island has to offer, in places that few can show. With 4x4 vehicles we will explore and go throughout old and off roads, giving you a perspective of breathtaking landscaped and experiences that you will never forget.
This is us, Always Madeira, give us an opportunity to show you who we are, and where we stand, one of the most beautiful islands of all. Join us and be prepared for a great and remarkable journey that will for sure not regret.